Sreya Jayadeep, born November 5, 2005, is a remarkably talented Indian singer who achieved great success in the music industry at a young age. She has garnered widespread acclaim for her mesmerizing vocals and versatility across different genres and languages. Sreya's musical journey began at the tender age of three when she embarked on music lessons under the tutelage of renowned classical musician Thamarakkad Krishnan Namboodiri. Her dedication and commitment to honing her craft paid off, as she quickly emerged as a prodigious talent. Sreya's musical prowess was further shaped by playback singer Sathish Babu, who mentored her in various genres of music, allowing her to develop a diverse range of vocal techniques.
This website clickinkerala has detailed information on Sreya Jayadeep Wiki, Age, Biography, Family, 21+ Amazing Photos, Biography, Height, Age, Family Details, Birthdays, Weight, Important Facts, and many more.
You should read this if you have never heard of Sreya Jayadeep. That's because we've collected all the information you need about her on this single page. So check out her information and share this post with your friends and family.
Check out Sreya Jayadeep HD Photos, Biography, Family, Education Qualifications, Affairs/Dating/Marriage, Income, and Social Media.
| | |
| --- | --- |
| Biography | Description |
| Full Name           | Sreya Jayadeep |
| Nickname | Sreya |
| Working As | Playback singer |
| Date of Birth (DOB) | 5 November 2005 |
| Birth Place | Kozhikode, Kerala |
| Nationality | Indian |
| Current Location | kerala |
| Famous for | Sreya was crowned the Surya TV 'Surya Singer – 2013' (Malayalam) title at age 8 followed by Sun TV 'Sun Singer – 2014 (Tamil)'. |
Check out Sreya jayadeep latest photos
At age eight, Sreya's exceptional talent earned her the Surya TV 'Surya Singer – 2013' title in Malayalam. This triumph marked the beginning of her flourishing career, opening doors to numerous opportunities in the music industry. Her exceptional singing abilities transcended language barriers, leading her to win the Sun TV 'Sun Singer – 2014' title in Tamil, showcasing her versatility as a multilingual artist.
Sreya made her debut as a playback singer in the Malayalam film "Weeping Boy" in 2013, where her enchanting vocals captivated audiences with songs like "Chema Chema Chemanoru" and "Thaaraattupaattum." However, her performance in the Christian devotional album 'God' truly propelled her into the spotlight—the song "Mele Manathe Eashoye," composed by the esteemed Sri. M. Jayachandran garnered over 11 million views on YouTube, catapulting Sreya to newfound fame and establishing her as a prominent figure in the music industry. This success led to an influx of film offers, and Sreya went on to lend her voice to numerous Malayalam films.
One of Sreya's notable contributions to the film industry includes her rendition of "Enno Njan Ente" from the movie "Amar Akbar Anthony" in 2015. This soulful rendition received widespread acclaim and further solidified her position as a talented playback singer. Another standout performance came from "Minungum Minnaminuge" from the blockbuster film "Oppam" in 2016, which amassed over 70 million views on YouTube, showcasing her immense popularity among music enthusiasts.
Family
Sreya Jayadeep, the daughter of Jayadeep, a contractor, and Praseetha, a homemaker, was born on November 5, 2005. She hails from a loving and supportive family and has a younger brother named Saurav. Growing up in a nurturing environment, Sreya discovered her passion for music early and embarked on a remarkable journey as a talented singer.
Her parents recognized her innate musical abilities and encouraged her to pursue her passion. They provided unwavering support and nurtured her talent, understanding the importance of fostering her musical skills from a young age. Sreya's family played a crucial role in shaping her career, providing guidance and opportunities to showcase her remarkable vocal abilities.
Sreya Jayadeep Parents
| | |
| --- | --- |
| Father | Jayadeep |
| Mother | Praseetha |
| Brother | Saurav |
| Sister | Update soon |
Relationships & More
Her Marital Status is Unmarried. She has never shared anything about her affairs. Further details about her personal life will be updated soon in this section.
| | |
| --- | --- |
| Marital Status      | – |
| Boyfriend | update soon |
| Husband/Spouse | – |
| Son | – |
| Daughter | – |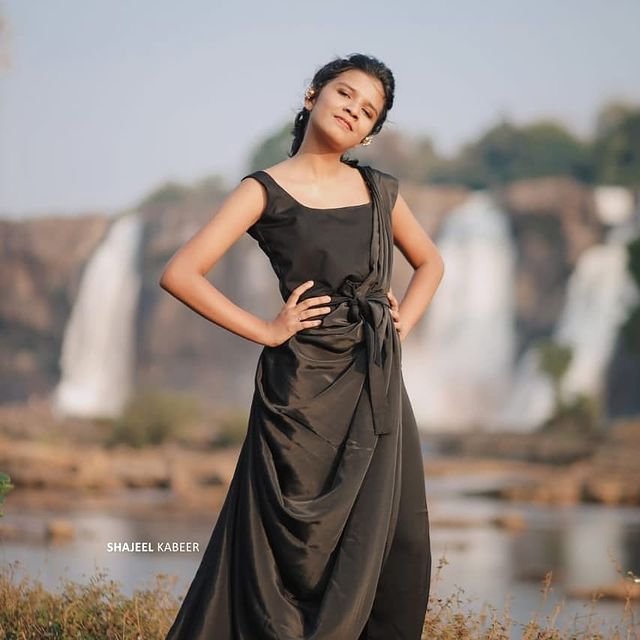 Education
Despite her growing success, Sreya Jayadeep remains committed to her education. She attended Silver Hills Higher Secondary School and continued her studies at Devagiri CMI Public School, where she was enrolled in the tenth grade as of 2020. Balancing her academic pursuits with her thriving musical career reflects Sreya's determination and discipline.
| | |
| --- | --- |
| Educational Qualification   | Update soon |
| School | Devagiri CMI Public School |
| College/ University | – |
Social Media
She is Vey active on Social media like Instagram, Facebook, and Youtube. This Section gives you an overview of her Social media accounts.
Sreya Jayadeep's notable songs and albums
Some of Sreya Jayadeep's notable songs and albums, showcase her versatility and talent as a singer across various genres and languages.
2013:

"Pinneyum Snehichu" – Album: Hitham (Album song)
"Chemma Chemma" – Film: Weeping Boy
"Tharattu pattum" – Film: Weeping Boy

2014:

"Vinnile Naru Punyame" – Film: Sparsam
"Divyakarunyame" – Christian devotional song
"Aarilum ashrayam" – Christian devotional song
"Mele manathe eeshoye" – Album: God (Christian devotional song)
"Sneham Navil" – Film: Niravu

2015:

"Sree Sabareesane" – Hindu devotional song: Sabari Punyam
"Oh Snehame" – Film: Kaval
"Yenno Njanente" – Film: Amar Akbar Anthony
"Anupamasneham"

2016:

"Onam Onam Onam" – Album: Ponnaavani Paattukal
"Minungum Minnaminunge" – Film: Oppam
"Onde Thaayi" – Kannada film: John Jani Janardhan

2017:

Title songs for TV series: Vanambadi (Malayalam), Mouna Ragam (Tamil), Vezhambal (Malayalam)
"Tapp Tapp" – Film: Pullikkaran Staraa
"Snehamam eshoye" – Album: Love of God

2018:

"Pasiyaara Yenaiyootti" – Tamil Album Song: Vivasaayi (Farmer Tribute)
Title song for TV series: Arundathi (Malayalam)
"Yarusaleem" – Film: Abrahaminte Santhathikal
"Amma I Love You" – Film: Bhaskar Oru Rascal
Title song for TV series: Kuttikurumban (Malayalam)

2019:

Title song for TV series: Ayyappa Saranam (Malayalam)
"Rekkeyaa" – Film: Kavacha (Kannada remake of "Oppam")
"Mathaliru Pookkum Kalam" – Film: Professor Dinkan

2020:

The title song for TV series: Ente Maathavu (Malayalam)

2021:

"FLOREO – A fusion of the East and West" – Song released on YouTube
"Nanmakal Nalkidum Nallavanam Yeshuve" – Bright Ministry (YouTube) – Christian Devotional Song
"Eeshoye Nee Varoo" – Celebrants India – Christian Devotional Song produced by Angel Audios USA released on YouTube
Gagana Nee | KGF | Sreya Jayadeep
Awards and Recognition
She Won Asia Vision Movie Award 2016 for being the new sensation in singing
IIFA (International Indian Film Academy) Award 2016 for the best playback singer in Malayalam
Asianet TV Award 2017 for the best playback singer
Anand TV Award 2017 for The Prodigy in singing.
Thikkurussi Gayika Puraskaram 2017 for the best playback singer
Vayalar Rama Varma Award 2017 for the best playback singer
Mangalam Music Award 2017 for the popular female singer
Radio Mirchi Music Award South 2017 for the upcoming vocalist female.
U.K. Event Life 2017 budding young Nightingale
Reporter TV Award 2017 – Kutti Puraskaram
She Won Flower's TV Award in 2018
Mangalam Music 2018 – Special Jury Award
Conclusion
Sreya's accomplishments have not gone unnoticed, as she has received numerous awards and recognitions throughout her journey. Her exceptional vocal talent and stage presence have earned her accolades from both industry experts and adoring fans. The dedication and passion she exudes in her performances have created a solid and devoted fanbase, eagerly anticipating her future projects.
Beyond her musical achievements, Sreya Jayadeep is admired for her down-to-earth demeanor and humility.